DATES Mon 2nd October 2023
- Mon 9th October 2023
7 nights
" Great walks led by a wonderful local guide " " Loved the beach walks " " Food was fantastic " Just some feedback from guests on our Algarve holiday this year. We extend our walking in 2023 and bring a holiday that walks 67km from East to West to explore more of the Algarve as we start in Tavira, Eastern Algarve and end in Lagos, Western Algarve. It's going to be a great walk!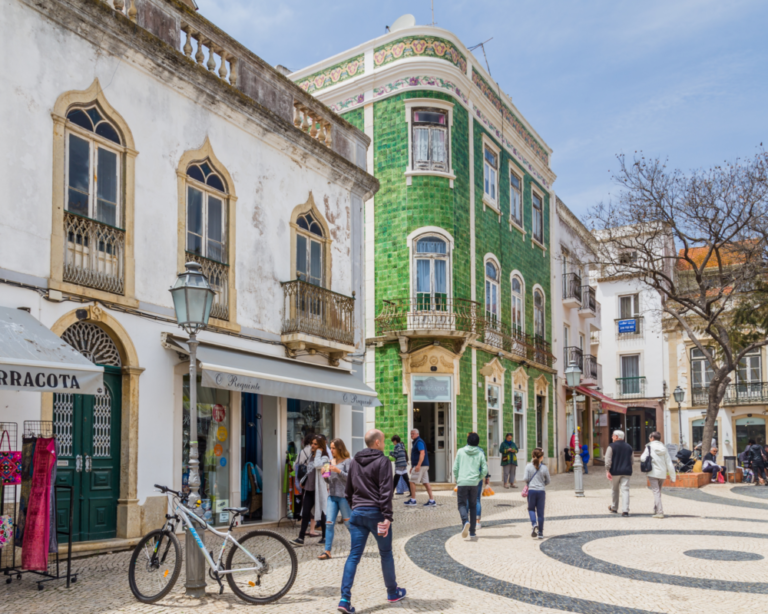 SUMMARY
Dates:Monday October 2nd to Monday October 9th
Guide:Local english speaking Portuguese guide
Walking Grade: 3 Goats as some walks are over 10km with one being 17km. There is very little ascent or descent and the walks are steady not steep. Do read our WalkingWomen Goat Guide and Get Goat Fit advice to prepare over the winter.
Base: We stay in 3 different hotels as we journey east to west across the Algarve to explore this lovely Portuguese coastline. First for 3 nights the Hotel Maria Nova in Tavira popular with WalkingWomen guests. We move on to the Hotel Jupiter Marina for 2 nights in Portimao and finally the Hotel Editory Aqualuz Lagos for 2 nights.
Getting there : Nearest airport is Faro and our airport pick up and return transfers will be to Faro airport. Faro to our Tavira Hotel is approx. 1 hour and to return from Lagos approx. 1 hour 30 mins.
It is possible to travel by train and we can pick up from the train station in Faro.
Please try to arrive between 14.00 and 15.00 on Oct 2nd and leave after 14.00 on Oct 9th. We can arrange transfers outside these times but please talk to us first.
Price:£1390 per person per holiday inclusive Bed and Breakfast , all dinners with wine, airport transfers, local transport and experienced local English speaking guiding.
We do offer a discount if you bring a friend and would like to share a room of £200 per per person. Total price of holiday per person is £1,190.
Not included is travel to Portugal where the nearest airport is Faro or it is possible to travel from the UK by train. Lunches and personal expenses are not included.
DETAILS
The Algarve has spectacular coastal scenarios. There are still places with more flamingos than tourists, and traditions are part of the daily life. This year we walk  between three places to discover more of this fascinating and beautiful area of Portugal.
In the tranquil East Algarve, secluded beaches can stretch for many kilometers with no one in sight and the Ria Formosa Nature Reserve teems with birds and sea life; tourist activity is secondary to the wildlife and work of the fishermen and shellfish farmers.
The West Algarve is more populated, but has cliffs, volcanic hills and dramatic limestone escarpments. This diversity is complemented by the local flora and fauna that flourishes in its mild sunny winters and long hot summers.
All this, combined, makes walking in the Coastal Algarve a fascinating experience with surprising sites and landscapes.
Tavira, at the centre of the Eastern Algarve, mixes old-Portuguese charm – cobbled streets, bougainvillea-hung balconies – with a workaday fisherman's riverfront.
Its ruined castle, churches and elegant merchants' houses provide cultural interest, while the eight-mile beach, across the salt marshes of Ria Formosa Natural Park, is a perfect chill out zone. The River Gilão estuary meets the Ria Formosa and the Atlantic ocean in a tranquil and rich scenario, dotted with colourful traditional fishing boats.
Portimão, on the banks of the River Arade, was traditionally a centre for sardine fishing and processing. Today the city's old and once bustling fishing docks have been remarkably transformed into a scenic promenade, leading to the quaint and tree-lined plazas of the old town. Bordering this are pleasant pedestrian shopping streets, a series of historic buildings, and a tantalising selection of cafés, bars, and restaurants.
Lagos is a city that, from early on, was a gateway to the Mediterranean. It was from its wide bay, encircled by the fine sands of Meia Praia that Gil Eanes set off, the first to round Cape Bojador; it was here that privateers like Sir Francis Drake hid, and galleons full of gold and precious stones from the Americas or spices from the India put into port.
The stretch of wall bordering the marginal (waterfront) is beautiful and in the old town you can find shops, restaurants, tons of history and culture. Last but not least, Lagos comes alive at night with street artists and bars for every taste with live music.
ITINERARY
Itinerary – subject to change depending on the weather and at the discretion of our guide. The days walks are discussed with the guide the evening before and there are often options to opt out early or take rest days.
Each day breakfast will be taken in the Hotel before leaving for the day. We will usually leave the Hotel between 9.00 am and 9.30am.
We usually return to the Hotel each day between 16.00 and 17.30 to have time to relax and change before dinner which is usually taken at 7.30pm.
DAY 1
Arrival to Faro – suggest arriving early afternoon for pick ups at 14.00 . We can arrange pick ups at other times but we try to do one Group Transfer for arrivals between 14.00 and 15.00 .
Transfer from airport to Hotel in Tavira.
A short introductory walk around town will be offered in the afternoon/early evening. Free time until the evening meeting and dinner.
Dinner will be taken at a local restaurant.
DAY 2
Cacela Velha and Cabanas Walk
An easy walk, close to the coast, starting in the beautiful old village of Cacela Velha, following tracks and quiet lanes to the picturesque old fishing village of Cabanas.
Here fishermen still continue their craft, mixing harmoniously with the visitors crossing to the island and the golden beaches. Here too we can rest, enjoy good food and drink whilst enjoying the sunshine by the colourful waterfront.
We continue back to Tavira, through the saltpans where we may see an abundance of wild life along with the traditional craft of salt extraction.
Dinner will be taken at a local restaurant.
Distance: 14km/8.76miles. Ascent/descent 65m/66m
DAY 3. Santa Luzia & Tavira Island
A real treat as we walk along one of finest beaches in the world and visit the small fishing village of Santa Luzia with its abundance of fishing boats bobbing in the gentle waters of the channel.
This circular walk from and returning to Tavira crosses to Tavira Island via local ferry/water taxi and returns to the mainland on a floating pontoon bridge.Dinner will be taken at a local restaurant.
Distance: 17km/10.51miles. Ascent/descent: 21m/21m
DAY 4 Ferragudo Walk and Hotel change
From Ferragudo ́s Light House we follow a stunning coastline westwards to Portimão & Praia da Rocha. We visit en route the charming and very traditional village of Ferragudo before continuing into Portimão itself.
Dinner will be taken at a local restaurant.
Distance: 6.5km/4miles. Ascent/descent: 21m/21m
DAY 5 Coastal Walk
Today we offer a fantastic coastal walk taking in the superb sandy beaches and dramatic headlands between Alvor and Portimão, including the much photographed beach at Praia da Rocha, one of the best in the Algarve. The rock strata are particularly varied and very colourful, from white limestone to red sandstone. These different rocks support a wide variety of flora.
Dinner will be taken at a local restaurant.
Distance: 9.41km/5.85miles. Ascent/descent: 87m/87m
Day 6 Vale de Lama / Hotel change
We walk through gentle countryside to the salt pans on the Alvor Estuary with its abundant bird life. We then parallel the extensive Lagos beach where, at any time, we can drop down to the sea for a rest and a swim. We crown the day arriving in Lagos with its beautiful waterfront and old historic centre.
Dinner will be taken at a local restaurant.
Distance: 10km/6.3miles Ascent/descent: 17m/32m
DAY 7 Praia da Luz to Lagos
A wonderful walk along the cliff tops with stunning views all around. The highlights of the area are the spectacular rocks, coves and caves that have been relentlessly carved and shaped by the pounding waves. You can look down on the famous grottos. Looking inland you can see the remnants of old farmhouses and land divisions that marked the territory here when it was once the only source of income. Porto de Mós and Ponta da Piedade cafés provide welcome refreshments.
Dinner will be taken at a local restaurant.
Distance: 9.9km/6.2miles. Ascent/descent: 306m/293m
DAY 8
Departure after breakfast
Transfer from hotel to Faro Airport leaving the hotel around 10am so please book flights after 14.00 in the afternoon.