DATES Thu 6th June 2024
- Sun 9th June 2024
3 nights
Switzerland is a favourite destination of ours being one of the most beautiful hiking areas in the world. In the words of a guest last year So many highlights! From walking in the breathtaking Alpine scenery, swimming in the lakes, enjoying the company of great women, and pushing through some of the challenges to expand our comfort zones. Thank you " Our winter trip here received 5 star rating.We do hope you will join us on a spring trip to Switzerland.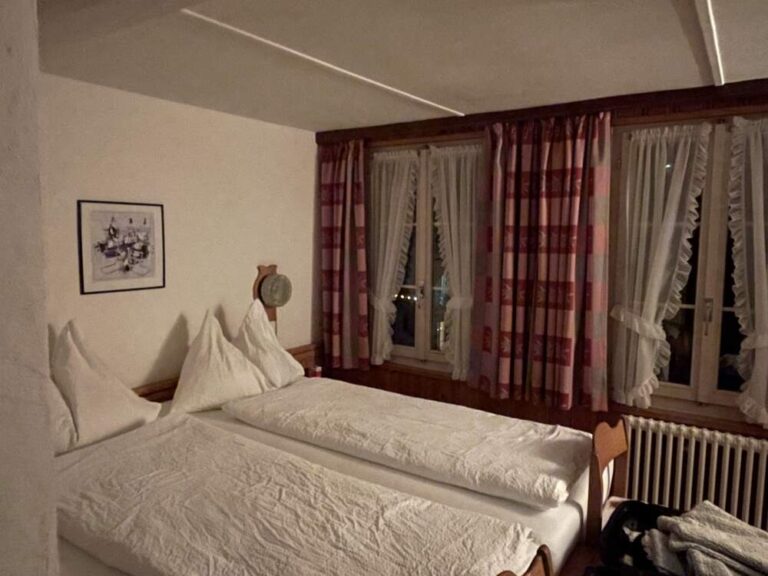 SUMMARY
Dates: Thursday June 6th to Sunday June 9th – 3 nights and 4 walks
Guide: Sabine – local english speaking guide
Walking Grade: 2 Goats with the opportunity to swim in the lakes of Brienz and Thun and walk amongst alpine spring flowers so beautiful at this time of the year.
Base: Hotel Alpenblick, Wilderswil near Interlaken. An award winning family run alpine hotel with owners Yvonne Stockli, Sommeliere Gault Millau and her Michelin starred and Gault Millau chef husband Richard. You will experience the warm hospitality typical of this Bernese Highlands region. Staying in the charming rooms and eating in the bistro restaurant every evening serving local food and wine. Yvonne has a passion for Swiss wines and highly recommends and offers a large variety of them. In Wilderswil we are situated in the heart of the Bernese highlands with amazing mountains and wonderful walks all around.
Arrivals: Meet at Hotel Alpenblick by 13.00 on Thursday if you can. We would like to do an afternoon walk before dinner at the hotel. There is car parking and it is 10 minutes to walk from Wilderswil Train Station.
Nearest airports are Zurich or Geneva and there are connecting trains to Wilderwil via Interlaken. It is a beautiful train journey in either directions. We can advise.
Departure: Plan for departures after a walk on Sunday morning. We will start at 9am latest and be back at the hotel for 14.00-15.00.
Price: £1125 per person in your own room with all meals included: 
There is a discount if you bring a friend/partner and you are sharing a room. Price £990 per person in a shared room.
Ensuite accommodation in solo occupancy rooms
All breakfasts and dinners at the hotel restaurant
Packed lunches
English speaking experienced mountain  guide
Not included:
Travel to Wilderswil
Local Transport to walks – some people may get local discounts,have a SwissPass or have evidence of retirement which may bring discounts so we will organise transport to be paid individually. Full price for buses, trains and cable cars could be up to CHF 200
Additional drinks from the bar and any evening teas/coffees
We can help you extend your trip to have time to explore Interlaken, Zurich or any other destination you are interested in Switzerland. Or to help you if you are spending time travelling in Europe. There are so many incredible train journeys around Switzerland and this area has access to so many which we highly recommend.
DETAILS
We choose Wilderswil near Interlaken, in the heart of the Bernese Highlands, to be our base to explore this spectacular region of Switzerland. The hotel Alpenblick in Wilderswil we use is run by a family who have owned this traditional alpine hotel for over 50 years. The chalet house was built in the 17th century and in 1957 was acquired by Adelheid Stockli who created the hotel that we have today. She passed it on to her son Richard and his wife Yvonne and together they have been running the hotel since 1980. They are looking forward to welcoming WalkingWomen and giving us a taste of the history and culture of their much loved home.
Our hotel is situated in the village of Wilderswil a short walk away from the famous Interlaken which lies between the impressive lakes of Thun and Brienz. Also in the shadows of the most mighty mountains Eiger, Monch and Jungfrau. In Winter this is a very popular ski region with over 45 mountain railways, aerial cable cars and ski lifts. All can be used to access mountain paths to walk amongst this fabulous landscape.
The area we stay in was one of the birthplaces of tourism in Switzerland and was always popular with tourists from across the world. It is one of Switzerland's oldest and most frequented summer tourist resorts.
We believe this is an important destination for WalkingWomen to bring guests to one of the most wonderful places in the world and this time to experience stunning landscape and alpine flowers in bloom. To walk amongst wild flowers, mighty mountains and clear lakes is one of those beautifully reviving experiences. Last year we managed to take dips in mountain lakes and streams every day so welcome during our walks.
ITINERARY
The itinerary will depend on the weather. You can trust in your local guide that she will do the right walks for us. Guides brief the group each morning as conditions can change over night.
You can expect the following walks if time and energy allows.
Hike 1: A nostalgic day with walk to the Giessbach Waterfalls  9 km, 400 m up and down, approx 4 h.
Which colour has the Brienzer Glacier lake? Opal, Saphire, Emerald, Turquoise or Marine? The cool surface of the water never glistens the same way twice. Our hike starts from Iseltwald and we are walking with no mayor elevation next to the shore of the lake until we reach the 200 year old glamorous Belle Epoque Hotel Giessbach. We will hike several steps up to the waterfall and get refreshed by the icecold spray of its water. On the way back we will experience nostalgia and pure romance on an original Belle-Epoque steam boat.
Hike 2: Breathtaking views into the Lauterbrunnental.  9.7 km, 600m up and down, approx 5 – 6 h
We take the small gondola from Isenfluh to Sulwald at 1528m. We walk through the forest and over mountain meadows until we reach the small lake Sulseewli at 1921m. This hilly plateau takes you to the Lobhornhütte. This tour will take your breath away twice ! Once by climbing up to the hut and the second time viewing Eiger, Mönch and Jungfrau. On our way back we descend through lovely forests until we reach Grütschalp. Great view into the narrow Lauterbrunnental. From there we will take a Gondula to Lauterbrunnen and by train back to Wilderswil.
Hike 3: A day in Grindelwald (Depending on the snow conditions which can exist in June – this tour may vary). 7 – 9 km, 210 – 470 m up and 820 – 860 m down, approx 4 – 6 h
By Train to Grindelwald. We will catch a gondola to First (2184 m) where we will have a stunning view on the Eiger North Wall. We will hike to the Bachalp lake at 2266 m and maybe still find some snow at the lake. If the snows allows we will hike up to the pass Gassenboden (2400 m) and then slowly descend to the Bussalp, form where we will catch a bus / Taxi back to Grindelwald. If there is too much snow we slowly descend from the lake and cross alpine meadows with first alpine spring flowers until we reach the gondola station BORT.
Hike 4: Enjoy the view on the Thuner Lake from the Niederhorn 7 km, 580 m up and 230 m down, approx 4 ½  h.
By bus from Wilderswil to Beatenbucht.We will catch a gondola to the Station Vorsass. We will hike through bright pine forests and across alpine meadows. Hiking on the Niederhorn provides countless moments of happiness and singular experiences of nature. Not infrequently, you can hear the cuckoo call in the spring, or discover a marmot that has just woken up from hibernation. And, at almost any time of year, there are ibex and chamois going about along the hiking trail.