DATES Thu 18th April 2024
- Tue 23rd April 2024
5 nights
The Cairngorms were so popular in 2023 that we have decided to continue to offer this wonderful opportunity to explore these magnificent Scottish mountains. To walk where Nan Shepherd walked and to explore more of this magical area is a treat not to be missed. All from the bustling local town of Aviemore easily accessible with its train station and proximity to airports. There are a wealth of walks and we look forward to helping you discover this part of Scotland.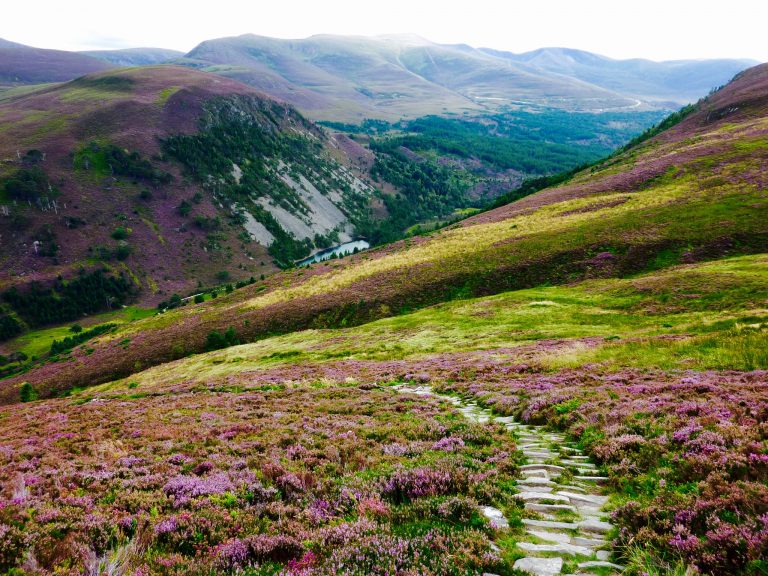 SUMMARY
Dates: Thursday April 18th to Tuesday April 23rd – 5 nights/5 days walks
Guide: Stef Lauer
Walking Grade: 2 Goats
Base: Cairngorms Guest House in the village of Aviemore. Newly renovated, family owned with bright airy rooms and a cosy traditional Scottish feel to the place. A friendly welcome awaits. All rooms are ensuite.
Please arrive by 3pm to check in followed by a briefing and an orientation walk of the area.
There is a train station in Aviemore just 10 minutes walk from your guest house or a short taxi ride (if heavy luggage ) and the nearest airport is Inverness about 45 minutes' drive away
We would encourage people to travel by public transport. Why not try the Caledonian Sleeper from London to Aviemore details in this link: Sleeper train.  Your adventure begins from the moment you board the train. The overnight train arrives into Aviemore at 8am ish on Day 1.
Departure is after a morning walk on the last day.
Price: £990  per person for solo occupancy ensuite room  to include:
Ensuite Bed & Breakfast accommodation
Welcome dinner at a local restaurant on the 1st night
Specialist local guiding – Stef has great knowledge of the area
Local Transport required for walks
If you bring a friend/partner and share a room the price is £790 per person
Not included: return travel to Aviemore, lunches ( easiest is to organise own picnic lunches from the local shops which you will be shown on your arrival day),evening meals after the first night, drinks, anything not mentioned in the itinerary.
DETAILS
The Cairngorms are the UK's largest national park (it is twice the size of the Lake District National Park and bigger than the whole of Luxembourg) and they are home to 4 of the 5 highest mountains in the British Isles as well as the largest Caledonian forests. With more high-level mountain ground than anywhere else in Britain and Ireland, the National Park offers a vital habitat for rare mountain plants and other scarce wildlife. Its beauty is breath-taking and has inspired many a mountaineer and poet.
The Scottish poet Nan Shepherd had a life-long fascination for The Cairngorms and many will be familiar with her poetic prose, especially showcased in her work 'The Living Mountain':
"Yet often the mountain gives itself most completely when I have no destination, when I reach nowhere in particular, but have gone out merely to be with the mountain as one visits a friend with no intention but to be with him."
― Nan Shepherd, The Living Mountain: A Celebration of the Cairngorm Mountains of Scotland
The gateway into the Cairngorms is Aviemore which is a year-round destination with snow sports being the popular winter activity and walking, climbing, biking, and a whole host of other activities the main summer draw. Our hotel will be in the bustling heart of it all, making the surrounding areas easily accessible.
Our walks will give you a special introduction to the diverse landscapes of the Cairngorms. On our day trip to the Morayshire Coast and through whisky country, the views will change again. There will be time to sample local food and drinks.
ITINERARY
Itineraries are subject to change at the discretion of the guide and depending on the weather. Your guide will brief you each morning about the day as walks may change to maximise getting the best views and the best experiences.
Day 1: Thursday  ARRIVAL 
Arrival : check in from 3pm and settle in. You will meet with your guide, Stef, for a briefing and a local walk before dinner together at a local restaurant
Day 2: Friday, AN INTRODUCTION TO THE CAIRNGORMS
This morning we will take public transport into the heart of the Glenmore Forest Park. Our walk today is a great way of introducing you to the views and wonders of the Cairngorms by climbing the corbett (Scottish mountains over 800m) Meall A'Bhuachaille. The name means in Gaelic 'hill of the shepherd' and Stef will happily explain why. The hill gives some fine vistas over the Cairngorms, its surrounding forest parks and Highland lochs.
9km, 550m of ascent
Day 3: Saturday , INTO THE CAIRNGORMS
After yesterday's warm up, we are venturing further onto the Cairngorm plateau and we'll literally wander in the footsteps of the Scottish poet, Nan Shepherd. Nan roamed the Cairngorm hills all her life and her beautiful words from her book 'The Living Mountain' will be accompanying us. Depending on snow conditions, we might tackle a higher vantage point.
16km, 600m of ascent
Day 4: Sunday STRATHSPEY RAILWAY
Choo choo – we are off on a steam train today! The Strathspey Steam Railway was brought back to life in 1978 and runs between Aviemore and Broomhill in Strathspey. We'll enjoy the blast from the past and alight at the quaint Highland village of Boat of Garten for a wee explore. We join the well-known long-distance path, The Speyside Way, and return to Aviemore on foot. Afterwards there is some free time to relax, enjoy the local spa, do some shopping or go for another wander.
10km, 50m ascent
 Day 5: Monday, SPEYSIDE WHISKY COUNTRY & MORAYSHIRE COAST 
We take a day trip today through Speyside Whisky Country on our excursion to the coast. Either if you like to sample a dram, two or if you have not been converted yet, whisky is the life blood of Scotland and part of its history, heritage and pride. We take a scenic drive through the rolling Speyside hills, past many familiar sounding whisky distilleries, following the River Spey. We are heading for the coast where we will explore the Morayshire Coast which is dubbed 'The Scottish Riviera' with its mild climate and stunning sandy beaches. On our outing today, we will do at least two walks of approx. 5km each with minimal ascent.
If you are interested in the adventures of Anne Lister (English lesbian diarist, business woman and landowner from the 1800's): she travelled Scotland extensively in 1828 with her companion, Scottish noble woman Sibella MacLean and explored Morayshire as part of their 3 months long journey. Stef is currently busy piecing together a new Highland tour of Anne & Sibella's journey and might give you a wee taster of what's to come.
Day 6: Tuesday Departure
Departure with time for a local morning walk
The Caledonian Sleeper train leaves in the evening from Aviemore.