DATES Sat 10th August 2024
- Sun 18th August 2024
8 nights /9 days
Many women tell us they want to travel further afield or want to have a bucket list adventure or maybe want to explore an unknown area. This unique trip is just that - an untamed, trip of a lifetime adventure ! We start in the foothills of the Northern Rockies to walk in the Tumbler Ridge UNESCO Global Geopark. These Rocky Mountains are an inspirational place to hike led by our wonderful local mountain women, Dee from Untamed Tours,and with her you will certainly get away from it all and discover something new. You will return home full of stories to share. There are options to extend your trip and visit other areas of Canada or Alaska.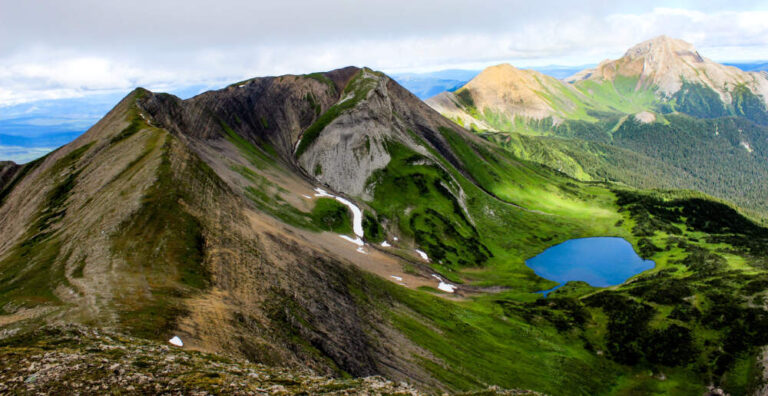 SUMMARY
Dates: Friday August 9th to Sunday August 18th   – 8 nights and 9 days
Guides: Dee our guide in Tumbler Ridge UNESCO Global GeoPark, British Columbia. Dee lives and breathes this area and can show you the wonders of this untamed and wilderness part of British Columbia, Canada. Women guides are rare in the area and we are lucky to have found Dee who we now work with.
Walking Grade: This is a varied experience to give you the very best experience of Tumbler Ridge. There will be some more gentle cultural walks, some wildflower walks and the option to do more stretching,challenging hikes. We have 2 Goat walks and one 3 goat walk to experience Sunrise Summit if weather permits.
There is an option to climb the Sunrise Summit which is a very special hike starting out at 2am to get to the mountain summit to see the sunrise over the mountains. Spectacular! The photos give you a little taste of why it's worth it!
Everyone will stay at camp at the beautiful Lakeside and those not doing the Summit will stay and can swim, go out in canoes or simply sleep longer and relax.
Base: We begin with a stay at the Trend Hotel in Tumbler Ridge where everyone can have their own ensuite room. We then move to the Sunrise Summit Camp for 2 nights – this is rustic accommodation with shared rooms in a beautiful setting on a lake in the mountains. There is no other opportunity to experience the true mountains and the sunrise summit without staying in mountain huts. It is an adventure not to miss. A highlight is an early morning dip in the fresh mountain lake.
Your final night is in a hotel in Grand Prairie where the airport is.
If you have time you could extend your trip and we can help arrange visits in Calgary ( where flights to Grand Prairie tend to stop from the UK ) or Vancouver or to another parts of Canada. You may fancy an Alaska trip or some other extension.
Getting there : Our starting point is Grande Prairie where you will be picked up.
You may choose to fly via Vancouver and have a few days there – we can recommend hotels where women may stay together.
Arrival: If flying arrive at Grand Prairie Airport by Friday August 10th by 14.00pm latest. Arrive earlier if you can.
Departure: Sunday August 18th from Grand Prairie with flights leaving to suit you.
Price: £3550 per person $6068 CAD for a very special trip. There is an option to stay in a local AiRBNB for a reduced price of £2778 – please discuss with us if this would be a preference.
Fully inclusive of :
Solo occupancy ensuite hotel accommodation for 6 nights ensuite ( 5 in Tumbler Ridge and 1 in Grand Prairie)
2 nights on the Sunrise Summit where we share cabins.
All breakfasts, lunches and 4 dinners – a welcome meal , a dinner and spa at the Hideway ( a local house in Tumbler Ridge ) and 2 dinners at the Stoney Lake Camp.
Professional guided hikes in Tumbler Ridge GeoPark
Host and guiding for the entire trip by local mountain guide Dee
WalkingWomen support
All Experiences that are part of the itinerary – we have a very full programme.
Airport pick up and return
Local transport required
Home Spa kits made by local women in Tumbler Ridge for your mountain stay
 All Canadian taxes and fees
Not included:
Travel to Grande Prairie
Additional meals and beverages – suggested budget is £50 per day on days where meals not included
Any tips for guides
Optional additional activities – for example there could be a chance to do a helicopter hike and these will be discussed with you during the trip.
DETAILS
This is a very special trip as we develop deeper connections with our friends in Canada. There have always been such strong links with WalkingWomen, and many, many women from Canada have joined WalkingWomen holidays and still do. We love how WalkingWomen is growing through the connections and support of women and we continue to offer a chance for local Canadian women, and WalkingWomen overseas guests,to explore this undiscovered part of British Columbia, Canada.
This year we embark  on our rugged, remote holiday to Tumbler Ridge in the North East part of British Columbia. This time to take in the vast range of wildflowers at every step. We walk amongst the Fireweed, the willows and the blueberries down low and then see the "Truffala Tree's" once in the alpine. Alpine flowers, mosses and lichen abound above 1500m and with the town of Tumbler Ridge sitting at 800m, you don't have to climb very far to be above tree line. 
There is a wide range of activities so this holiday will suit women who want to be in the mountains but don't want to hike too much and those who want to do some adventurous high mountain hikes including the sunrise summit.
We will have some amazing women joining us to share their love of the area with you.
ITINERARY
Itinerary – could change depending on the weather. We bring you a wonderful experience of the Rocky Mountains of Tumbler Ridge in British Columbia.
Day 1 Saturday Aug 10th  ARRIVAL 
Fly into the Grande Prairie Airport where you will be picked up latest 14.00.
You begin with a welcome visit to "The Flower Patch" A gentle stroll around.
Woman Owner/operator Chelsea Anderson of Farm 2 Table on 51 grows 3000 sqft of flower stems that can be picked for your own bouquet. This rare gem in the north is host to many,many varieties of flowers. Grab a garden tour, pick a bouquet for your room and have tea in the Flower Tent.
After our visit, we will travel to Tumbler Ridge. The drive is 2.5hours from the farm.
Check into your hotel and find handmade soaps and bath salts from a local soap maker.
Day 2 August 10th Tumbler Ridge Day This walk we grade Goat Level: 2
Today we explore our small town – your home for the week. The town is rich in history so we will start our day immersing ourselves in how Tumbler's Ridge came to be and what is this area all about. The community center hosts photo's and descriptions of early tourists and early industry. Tumbler Ridge is a coal mining town and it was built in two years to house staff for the mines in the area.
We visit the Tourist Information Center and the Geopark Interpretive Center. The tourist center caters to local artists and artisans and is a great place to find mementos. The interpretive center across the street explains what a Geopark is! We are part of a UNESCO World Heritage Site! The biggest in Western Canada.
Visit to the Museum and take a walk along Flatbed Creek where the dinosaurs walked and footprints were found.
Dinosaur tracks, bones and fossils have been found in and around our town. There are many exhibits at the museum and there are also real dinosaur prints along the creek. After the museum tour, we walk down to the creek to find the prints on an interpretive walk.
Lunch is served creek side (as long as weather permits)
Dinner and outdoor spa treatment provided at The Hideaway – a local home.
Day 3 Aug 11th  Steady walking at  Goat Level 2
We combine trails in town with the golf course and get beautiful views of the Murray River. The TR trail links up to the golf course where we stop for a bite to eat before we continue on to the Lost Haven Cabin. The cabin is maintained by the Wolverine Nordic Mountain Society and is a community facility. From the cabin we can stroll down to the river for those who want an added challenge. For those needing some rest, make a batch of Wildflower infused salve with our foraging specialist.
Day 4 Aug 12th : Choose Your Challenge: Wildflower Wonders
Today we have options to split up the group. For those wanting something more challenging, your guide will take you up into the Alpine and Windfall Lake. Goat Level 3.5) /For those needing an easier day, you will visit 2 waterfalls. Goat Level 2
All beautiful walks to discover the area.
Day 5 Aug 13th: Rest Day
River boating and fishing will be an optional excursion today. Our guide and fisherman Ben Brochu has been guiding hunting and fishing trips since he was 13. He is an expert at finding animals and fish and a fish fry is sure to happen on the banks of the river.
Day 6 Aug 14th. Kinuseo Falls, Stone Corral, Duke Lake or Canary Falls
The falls are our crown jewel, something truly breathtaking. The short walk in and around to the viewing platform is a favourite of visitors. This may be the only time we see a "crowd".
There are many other hikes and walks in this area and we will give options. The Stone Corral is a walk back through time but it's a challenging hike. Goat Level 4. Canary Falls and Duke Lake are shorter, easier walks that have beautiful views.
Day 7 Aug 15th  Bullmoose Marshes and Gwillim Lake Goat Level 1
Beautiful walks to experience the marshes and lakes.
Day 8 & 9 Aug 16th & 17th Sunrise Summit from Stoney Lake Camp!
Bootski Lake Alpine and Big Mountain Wildflower Excursion (Goat Level 4) or Shipyard Titanic Wildflower Meadows Excursion (Goat Level 3)
You now get to experience what many Canadians do on holidays, camp! This is a rustic, bare bones space that seems to charm every visitor.
Bunk style cabins, pit toilets and the most amazing and crazy experience watching the sun come up over the mountains.
Later in the afternoon, after naps, hot tub and lake swimming we drive our guests back to Grand Prairie and drop you off at the hotel to shower and pack for your trip home.
Final night in Grand Prairie and farewell dinner
Day 10 Aug 18th Departure – there is no itinerary so flights can be booked to suit you travel plans .