DATES Mon 21st August 2023
- Sat 2nd September 2023
12 nights
What an adventure ! We start in Vancouver and then travel up to the foothills of the Northern Rockies to walk in the Tumbler Ridge UNESCO Global Geopark. Many women tell us they want to travel further afield , they want to join up with women in other places and this trip does just that connecting you to women in Canada who want to share some of their life and experiences. Do join us on our first holiday in Canada and return full of stories to share. There are options to extend your trip and visit other areas of Canada or Alaska.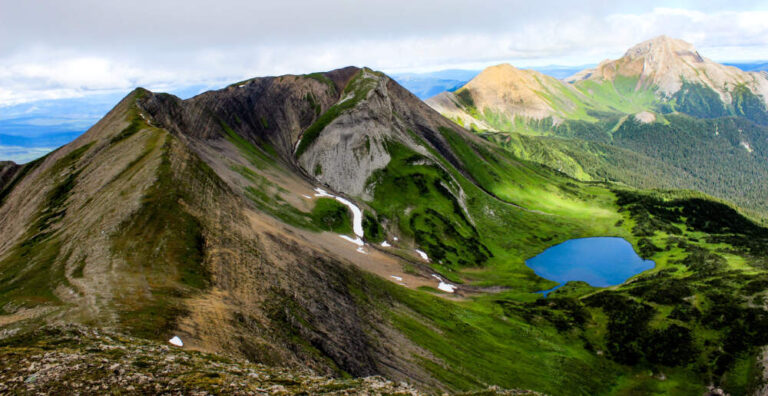 SUMMARY
Dates: Monday August 21st to Saturday September 2nd
Guides: Local woman guides in Vancouver and Dee from JadeFit in Tumbler Ridge UNESCO Global GeoPark, British Columbia. Ginny from WalkingWomen will be travelling to Vancouver and be with the group throughout.
Walking Grade: 2 Goats with one 3 goat walk to experience Sunrise Summit if weather permits. There is an option to stay at camp and not do the Summit or to stay at the hotel until group returns. The Sunrise Summit is special and we hope everyone will join in to see the sunrise over these magnificent mountains. The photos give you a little taste of why it's worth it!
Base: We stay in different accommodation to experience as much as we can of Vancouver and the lesser visited area of British Columbia – Tumbler Ridge Thermal GeoPark. For 4 nights in Vancouver we are  in the newly renovated YWCA Hotel. It is a not for profit hotel with a % of hotel reservation funds going to support community programmes for women and children. We then fly to Tumbler Ridge and stay in the Sunrise Summit Camp for 2 nights – this is rustic accommodation with shared rooms in a beautiful setting on a lake in the mountains. There is no other opportunity to experience the true mountains and the sunrise summit without staying in mountain huts. It is an adventure our local guide Dee recommends not to miss. The remaining 4 nights we stay in the Trend Mountain Hotel in Tumblers Creek. We return to Vancouver for 2 nights at the Barclay Hotel owned and run by Barbara Cheng – a heritage style hotel and right in the heart of Vancouver for your final night.
Of course if you have time you could extend your trip and we can help.
Getting there : Holiday starts and ends in Vancouver. There is an option to join for the Tumbler Ridge part which local women may choose to do. Let us know at booking your preference and we will adjust the price.
If flying please arrive around 14.00 on Monday 21st for the Welcome at Vancouver International and to travel together to our hotel.
Helen, our travel concierge service, can help with flights/trains helen.wheatley@travelcounsellors.com
Call – 01522 716180/07775 927746
Price:£4,200 per person inclusive of :
Solo occupancy accommodation for 12 nights – ensuite except the 2 nights on the Sunrise Summit where we share cabins.
All breakfasts, 5 lunches and 1 dinner
Professional local women guides in Vancouver
Internal Flight from Vancouver to St Johns, Tumbler Ridge
Professional guided hikes in Tumblers Ridge GeoPark
Local transport required
Home Spa kits made by local women in Tumbler Ridge for your mountain stay
Sightseeing Tours guided by local women – see itinerary for detail
Talaysay Tours – Talking Trees
Granville Island Food Tour – Vancouver Foodie Tours
 Discover North Vancouver Tour & Capilano Suspension Bridge
Whale Watching Tour
 All Canadian taxes and fees
There is a discount of £500 per person if you bring a friend/partner and share a room so the per person price would be £3700 for your holiday.
The price of the holiday per person for the Tumbler Ridge experience only is $3540 Canadian dollars(CAD) inclusive of all taxes which is is £2240
Not included:
Additional meals and beverages – suggested budget is £50 per day on days where meals not included
Any tips for guides
Optional additional activities
Travel to Vancouver return and travel insurance which is mandatory

.
DETAILS
This is a very special trip as we start to develop deeper connections with our friends in Canada. There have always been such strong links with WalkingWomen and many, many women from Canada have joined WalkingWomen holidays and still do. We love how WalkingWomen is growing through the connections and support of women and we now launch in Canada thanks to Ann who flew all the way to Canada to cross country ski in Norway with us. We offer our first Canada holiday to her homeland. Also where our Great Aunt lived!
ITINERARY
Itinerary – could change depending on the weather. We are working in partnership with local guides in British Columbia and they recommend this itinerary to give you a wonderful experience of Vancouver and the Rocky Mountains of Tumbler Ridge. There are plenty of options to add on and we remain as flexible as possible on our first Canada trip. 
Day 1 – Monday August 21  Arrive in Vancouver and met by WalkingWomen – travel together to the hotel. Enjoy a welcome dinner together.
Day 2 – Tuesday August 22  Meet your Discover Canada Tour Guide in the hotel lobby and enjoy a guided tour to discover all of the city's highlights.
Enjoy a 1.5 hour guided first nations nature walk through Stanley Park with Talaysay Tours – owned and operated by Candace Campo: Nature enthusiast, we invite you to join and walk the land with us. Each plant, each tree has its own special story. Explore Vancouver's iconic Stanley Park, Beaver Lake, with our local Indigenous guide – cultural ambassador who will highlight how the local trees and plants of the Pacific Northwest have been harvested by our people for food, medicine and technology for thousands of years. Our guides are members of local Indigenous communities and the surrounding region. They will share our ecological practices, ancient and contemporary history, stories, legends and Indigenous ways of living with you.
Return to your hotel and evening at leisure
Day 3 – Wednesday August 23
This morning you will enjoy a 2 hour Granville Island Walking Tour with Vancouver Foodie Tours -owned and operated by Michele Ng.
Noisy and chaotic, yet irresistibly atmospheric, Granville Island is Canada's second most-visited destination behind Niagara Falls. This is Vancouver's destination for lovers of food, art and culture. Offering fresh, local, seasonal produce, alongside a slice of local life, this is where guests rub elbows with Vancouver's chefs as they shop for the day's menu. During the tour, guests will savour a cornucopia of fine foods from independent farmers and food artisans throughout Vancouver and nearby farms, from cheeses to locally-made charcuterie, candied salmon to melt-in-your-mouth donuts.
In the afternoon join the Discover North Vancouver & Capilano Suspension Bridge Tour
Experience Capilano Suspension Bridge Park (admission included) with its many features. Take the heart-quickening walk across this iconic bridge, as well as visit Treetop Adventures with its suspended walkways high up in the trees. Stroll the elevated boardwalk through The Living Forest, and if you have any courage left, give Cliffwalk a go – just like it sounds you walk along a granite cliffside high above the canyon floor.
Next visit Lonsdale Quay Public Market, which is an eclectic collection of unique boutiques, artisan vendors and one-of-a-kind shops to visit. The market is also known for its iconic Q tower. Climb the 77 steps to the top for a view well worth the climb. Finally, discover the Shipyards District with its public spaces, restaurants and shops, and be sure to stroll the Shipbuilders' Pier to take in your surroundings.
Evening at leisure
Day 4 – Thursday August 24
Free day to explore Vancouver on your own.  There are options to join other tours at an additional cost :
Vancouver Foodie – GastownTour in the late afternoon
Full day Discover Whistler & Sea to Sky Tour or or the Discover Victoria &Butchart Gardens Tour
Day 5 – Friday, August 25 – Travel to Fort St John Fort St. John to Tumbler Ridge
Fly from Vancouver To Fort St. John approx 1 hour.
Upon arrival you will be greeted by Danielle Roscher, Owner/operator of JADEFit, and transferred toTumbler Ridge St.
Museum Tour, Tumbler Ridge welcome, and "Dinosaur Hike" – all to settle you into your new surroundings
Tumbler Ridge is famous for its Dinosaur artifacts. The museum will take the visitors through the education and history of the artifact findings and then JADEFit will take the group on a tour along a trail with real dinosaur prints.
Our first afternoon we head out to the  Compass Mountain Outfitters Camp for the Sunrise Summit Adventure. This is a once in a lifetime experience which we didn't want to miss.
Day 6 – Saturday August 26. Untamed Adventure – Sunrise Summit Hike Goat Level 3
Early rise! 2:00am start to get up to the top of "The Terminator " for Sunrise. The trail head is down a VERY rough road so we take trucks. This hike is 300m in elevation and 6km round trip. It has some steep sections at the top. We serve coffee and breakfast on the summit while you watch the sun come up over the mountains. It is a challenging but rewarding experience. It has been a top seller, story teller and "laugh about later" trip from all our past guests who take part in the fun.
We will return to camp around 10:00am. Naps are usually in order and we revive mid afternoon. There will be two options for the remainder of Day 2. Guests can enjoy the lake and backcountry hot tub, go paddle boarding or relax at camp. Or, guests can join a guided trip to The Shipyard and Babcock Falls, a 30 min drive from camp and a 6km walk with 50m ascent/descent.
Fire and dinner in the evening to enjoy the Canadian outdoor experience.
Day 7 – Sunday August 27 Pack up camp and head towards our next hiking destination . Goat Level 2. Stone Corral and Kinuseo Falls. 4-5km with 230m ascent/descent.
No trip to Tumbler Ridge is complete without seeing Kinuseo Falls. This massive wonder of nature takes your breath away as you stand in the mist at the river bottom.
Across the road is a historic trail called Stone Corral. Around each bend is a new surprise with 15 different interesting stops including two caves, a massive rock corral and a tiny underground stream fed lake.
Drive back into Tumbler and check into the Trend Hotel in Tumbler Ridge. Shower time!
Day 8- Monday August 28 Goat Hike Level 2. Windfall Lake 10km with 300m Ascent/descent
This hike winds through the forest and breaks into the alpine into a beautiful tarn (alpine lake). Windfall can be made more difficult by adding a ridge walk. This is a good area to add extra difficulty for those who may want more!
Day 9 – Tuesday August 29.  Goat hike level 1. Bull Moose Marshes  2km hike and Gwiliam Lake 1km with bird watching and the chance to swim in the lake and/or paddle board.
A relaxing day with two stops. Easy hiking. The marshes host a myriad of birds and this type of ecosystem is home to our Canadian moose. Gwiliam Lake has a small hike along the shoreline and is a great lunch spot. We can bring some water toys such as paddle boards out to the location.
Day 10 – Wednesday, August 30 – guests could choose one of the following:
Enjoy a relaxing morning and then  join your guides on a trip to Cameron Lakes Lodge Beach area with Dragon boating included OR you have the option to go on a once-in-a-lifetime Heli Tour with Ridge Heli Tours at an additional cost. Your guide will explain other options on the day depending on weather.
Day 11 – Thursday, August 31  Transfer from Tumbler Ridge to Fort St. John
Flight from Fort St John to Vancouver and Transfer to your hotel
Evening at leisure to relax
Day 12 – Friday, September 1 Back in Vancouver 
Enjoy a full day exploring Richmond with your Discover Canada Tours guide
Visit the historic fishing village of Steveston and then join an exciting Whale Watching tour on acovered or zodiac boat (included) Voyage out into the water with Vancouver Whale Watch to experience an oceanic wildlife spectacular.Along with magnificent Orcas and majestic Humpback whales, the Pacific Coast is home to several species of captivating aquatic animals and extraordinary birds. This is a 3-5 hour tour on a large partially covered zodiac boat.
Explore Richmond Night Market tonight – The Asian-themed Richmond Night Market is Metro Vancouver's biggest and most amazing night market, and the largest of its kind in North America. With hundreds of vendors and thousands of visitors each weekend, it's a sight to be seen!
Day 13 – Saturday, September 2
● Return flight home OR option to add-on an Alaska Cruise or other post-tour option – let us know if you are interested.
Important Notes  – Untamed Adventure: Sunrise Summit – we want to include this but want to emphasise that the accommodation is not a hotel as it is on every other night of the trip. 
This is one of our Untamed Adventures! It is challenging, and a true adventure in the way that things can go wrong. Weather may not cooperate. We could get to the top of the mountain and the clouds could be covering the sun. It could be windy! This makes it even more challenging. The terrain has steep sections and you are hiking in the dark without much sleep. This adds to the level of difficulty. That being said, we find that even the most inexperienced hiker, or one that is lacking fitness can still make it to the top with the help of the team. We have never had anyone NOT make it.
Camp for Sunrise Summit is RUSTIC. There is no running water or flush toilets. The camp is located beside a small lake and has pit toilets, propane stove and fire pit. The cabins have shared accommodations.