DATES Fri 25th August 2023
- Thu 31st August 2023
6 nights
THIS TRIP HAS STARTED - LET US KNOW IF YOU ARE INTERESTED FOR NEXT YEAR What an adventure ! We start in the foothills of the Northern Rockies to walk in the Tumbler Ridge UNESCO Global Geopark. Many women tell us they want to travel further afield or want to have a bucket list adventure or maybe want to explore an unknown area. This trip does all that and we are sure you will return home full of stories to share. These Rocky Mountains are an inspirational place to hike and you will certainly get away from it all ! There are options to extend your trip and visit other areas of Canada or Alaska.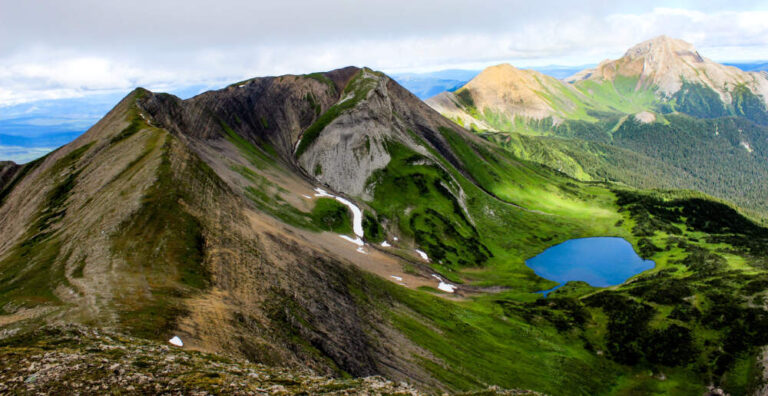 SUMMARY
Dates: Friday August 25th  to Thursday August 31st  – 6 nights
Guides: Dee our guide in Tumbler Ridge UNESCO Global GeoPark, British Columbia. Ginny from WalkingWomen will be travelling to Vancouver and flying up to Fort St John on Friday August 25th to be with the group throughout.
Walking Grade: 2 Goats with one 3 goat walk to experience Sunrise Summit if weather permits. There is an option to stay at camp and not do the Summit or to stay at the hotel until the group returns. The Sunrise Summit is special and we hope everyone will join in to see the sunrise over these magnificent mountains. The photos give you a little taste of why it's worth it!
Base: We stay in the Sunrise Summit Camp for 2 nights – this is rustic accommodation with shared rooms in a beautiful setting on a lake in the mountains. There is no other opportunity to experience the true mountains and the sunrise summit without staying in mountain huts. It is an adventure our local guide Dee recommends not to miss. The remaining 4 nights we stay in a local Hotel. There you can have your own room.
Of course if you have time you could extend your trip and we can help arrange visits in Vancouver or to another parts of Canada.
Getting there : From the UK the best is to fly to Vancouver and on to Fort St John where our Tumbler Ridge holiday begins. Others may choose to meet us directly in Fort St John.
Arrival: If flying arrive by Friday August 25th by 4pm latest.
Departure: Thursday August 31st  from Fort St John
Price:£1550 or 2625 CAD per person inclusive of :
Solo occupancy ensuite hotel accommodation for 4 nights ensuite
2 nights on the Sunrise Summit where we share cabins.
All breakfasts, 5 lunches and 1 dinner
Professional guided hikes in Tumblers Ridge GeoPark
Local transport required
Home Spa kits made by local women in Tumbler Ridge for your mountain stay
 All Canadian taxes and fees
Flights Vancouver to St John's Tumblers Creek fluctuate and we only confirm them when you have booked. Prices range from 510 to 760CAD which is £350 to £500. We will add this to your invoice once booked or you can book independently.
Not included in price quoted:
Flight Vancouver to St John
Additional meals and beverages – suggested budget is £50 per day on days where meals not included
Any tips for guides
Optional additional activities
Travel to Vancouver return and travel insurance which is mandatory

.
DETAILS
This is a very special trip as we start to develop deeper connections with our friends in Canada. There have always been such strong links with WalkingWomen, and many, many women from Canada have joined WalkingWomen holidays and still do. We love how WalkingWomen is growing through the connections and support of women, and we now launch in Canada thanks to Ann, who flew all the way to Canada to cross-country ski in Norway with us. We offer our first Canada holiday to experience one of the great undiscovered and quieter part of the Rockies in British Columbia.
ITINERARY
Itinerary – could change depending on the weather. We are working in partnership with local guides in British Columbia and they recommend this itinerary to give you a wonderful experience of the Rocky Mountains of Tumbler Ridge. There are plenty of options to add on and we remain as flexible as possible on our first Canada trip. 
If you want to arrive early to spend some time in Vancouver we can arrange accommodation and trips for you .
Day 1 – Friday, August 25 – Travel to Fort St John to the start of oír trip in the Tumbler Ridge UNESCO GEO GLOBAL PARK
Upon arrival you will be greeted by Danielle Roscher, Owner/operator of JADEFit, and transferred to Tumbler Ridge.
Museum Tour, Tumbler Ridge welcome, and "Dinosaur Hike" – all to settle you into your new surroundings
Tumbler Ridge is famous for its Dinosaur artifacts. The museum will take the visitors through the education and history of the artifact findings and then JADEFit will take the group on a tour along a trail with real dinosaur prints.
Our first afternoon we head out to the  Compass Mountain Outfitters Camp for the Sunrise Summit Adventure. This is a once in a lifetime experience which we didn't want to miss.
Day 2 – Saturday August 26. Untamed Adventure – Sunrise Summit Hike Goat Level 3
Early rise! 2:00am start to get up to the top of "The Terminator " for Sunrise. The trail head is down a VERY rough road so we take trucks. This hike is 300m in elevation and 6km round trip. It has some steep sections at the top. We serve coffee and breakfast on the summit while you watch the sun come up over the mountains. It is a challenging but rewarding experience. It has been a top seller, story teller and "laugh about later" trip from all our past guests who take part in the fun.
We will return to camp around 10:00am. Naps are usually in order and we revive mid afternoon. There will be two options for the remainder of Day 2. Guests can enjoy the lake and backcountry hot tub, go paddle boarding or relax at camp. Or, guests can join a guided trip to The Shipyard and Babcock Falls, a 30 min drive from camp and a 6km walk with 50m ascent/descent.
Fire and dinner in the evening to enjoy the Canadian outdoor experience.
Day 3 – Sunday August 27 Pack up camp and head towards our next hiking destination . Goat Level 2. Stone Corral and Kinuseo Falls. 4-5km with 230m ascent/descent.
No trip to Tumbler Ridge is complete without seeing Kinuseo Falls. This massive wonder of nature takes your breath away as you stand in the mist at the river bottom.
Across the road is a historic trail called Stone Corral. Around each bend is a new surprise with 15 different interesting stops including two caves, a massive rock corral and a tiny underground stream fed lake.
Drive back into Tumbler and check into your accommodation in Tumbler Ridge. Shower time!
Day 4 -Monday August 28 Goat Hike Level 2. Windfall Lake 10km with 300m Ascent/descent
This hike winds through the forest and breaks into the alpine into a beautiful tarn (alpine lake). Windfall can be made more difficult by adding a ridge walk. This is a good area to add extra difficulty for those who may want more!
Day 5 -Tuesday August 29.  Goat hike level 1. Bull Moose Marshes  2km hike and Gwiliam Lake 1km with bird watching and the chance to swim in the lake and/or paddle board.
A relaxing day with two stops. Easy hiking. The marshes host a myriad of birds and this type of ecosystem is home to our Canadian moose. Gwiliam Lake has a small hike along the shoreline and is a great lunch spot. We can bring some water toys such as paddle boards out to the location.
Day 6 -Wednesday, August 30 – guests could choose one of the following:
Enjoy a relaxing morning and then  join your guides on a trip to Cameron Lakes Lodge Beach area with Dragon boating included OR you have the option to go on a once-in-a-lifetime Heli Tour with Ridge Heli Tours at an additional cost. Your guide will explain other options on the day depending on weather.
Day 7 – Thursday, August 31 
Departure after breakfast.
Important to Note  – Untamed Adventure: Sunrise Summit –
This is one of our Untamed Adventures! It is challenging, and a true adventure in the way that things can go wrong. Weather may not cooperate. We could get to the top of the mountain and the clouds could be covering the sun. It could be windy! This makes it even more challenging. The terrain has steep sections and you are hiking in the dark without much sleep. This adds to the level of difficulty. That being said, we find that even the most inexperienced hiker, or one that is lacking fitness can still make it to the top with the help of the team. We have never had anyone NOT make it.
Camp for Sunrise Summit is RUSTIC. There is no running water or flush toilets. The camp is located beside a small lake and has pit toilets, propane stove and fire pit. The cabins have shared accommodations.