DATES Sat 5th August 2023
- Sat 12th August 2023
7 nights
If Iceland is on your bucket list, then this could be the trip for you. This time in summer when the nights are longer and days are warmer. This year we want to help you discover Iceland's magic with the local expertise of VikingWoman. During the week you will see the best Iceland has to offer. BOOK NOW AS ONLY 2 SPACES left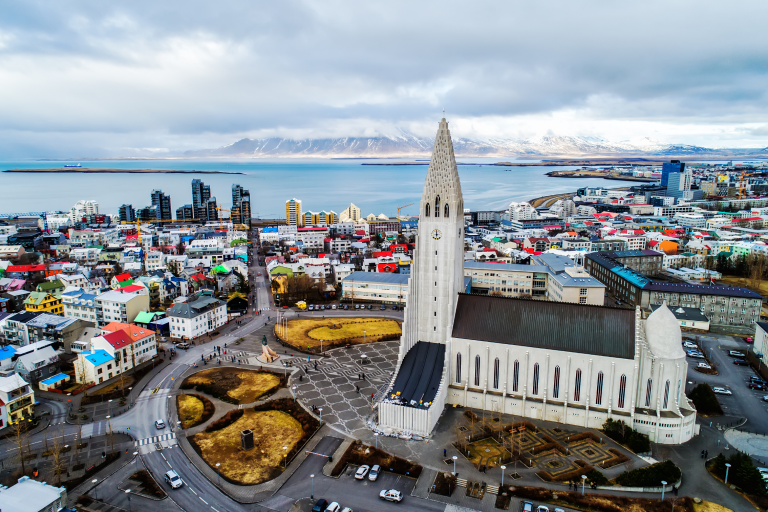 SUMMARY
Dates: Saturday August 5th to Saturday Aug 12th 2023
Local Guide: Saga from Viking Women or a women guide from her team
Walking Grade: Goat 2 – these are moderate summer walks ranging from 7km to 14km with a maximum elevation of 500 metres. There is an option to shorten or lengthen walks to suit the group.
Base: We will start and end in Reykjavik at the modern Hill Hotel based close to down town Reykjavik. On night 2 and 3 we stay in a cosy mountain hut in Þórsmörk and on nights 3 and 4 we stay in Hotel Dyrholaey, a family run hotel in South Iceland known for its amazing views across Myrdakur valley and the Dyrholaey peninsula. We stay amongst Iceland's incredible landscapes.
This holiday is in shared accommodation as we stay in local hotels and mountain huts. There is an option to have a single room for a few nights, so let us know if this is your preference.
Arrival:  Arrive Saturday 5th August by 4pm latest
Departure: Plan travel to leave after 14.00 on Saturday August 12th .
IcelandAir have some good deals at the moment 
Price: Last place available at £2350 per person for the holiday to include:
Welcome at Reykjavík Airport and transfer to City
Half Board Bed and Breakfast – accommodation is in shared rooms.
Evening Meals
Four lunches
Local Travel including transportation of luggage.
Expert guiding – English speaking
Not included:
Travel Insurance – mandatory
Return Flights to Reykjavik
Drinks and lunches on three days as we will be on the move and picking up lunch from local shops.
DETAILS
We like to bring new experiences to our guests and many women told us they would love to visit Iceland. We found an Icelandic woman who has set up her own company Viking Women and we believe we have the perfect partnership to bring you some holidays this year.
This is one of those special trips, and we hope you will join us.
ITINERARY
The itinerary may change depending on the weather and our guide's advice.
Arrival:Saturday August 5th we suggest arriving by 4 pm latest to have an evening together.
Day 1 and  2: Depart Reykjavík at 7.30am (your guide will meet you at your hotel) and stop at the town of Hvolsvöllur where we will change buses and go with the Highland bus to Þórsmörk. Arrive in Þórmsörk around 11:00 am. Settle into our cosy mountain hut, have lunch and go for the hike of the day.
Spend two nights in Þórsmörk exploring the area and some wonderful sights. We will hike around 7 km, with an elevation of 300 meters. On day two, we hike 12-14 km, with an elevation of 500 meters.
Day 3. Depart Þórsmörk around 15:00. Arrive in Hvolsvöllur at 17:40, where we will change buses. We will visit Seljalandsfoss and Skógarfoss before we check in to our hotel in the south for two nights. We hike 4 km, with an elevation of 260 meters.
Day 4. A fabulous full day of walks around the black sand beach, glacier lagoon and diamond beach. We will also do the Fjaðrárgljúfur canyon walk.
Day 5. We visit and do some walks in the Golden Circle, Friðheimar Greenhouse and have lunch before visiting the Secret Lagoon. We return to a Hotel in Reykjavík.
Day 6. Glymur waterfall hike for half a day, then free time in Reykjavík in the afternoon. The Glymur hike is around 7 km, with an elevation of 400 meters.
Day 7. Departure day. We will visit the Blue Lagoon before dropping off at Keflavík airport. For flights late afternoon –  after 14.00