DATES Mon 23rd October 2023
- Fri 27th October 2023
4 nights/3.5 days walking
Come and walk in the footsteps of the Ladies of Llangollen, the famous romantic couple who set up home in this lovely market town in the Welsh Borders. We stay in the comfy Gales Hotel in the centre of bustling Llangollen for some great autumn walking and good cheer! "Everything was amazing " "Location lovely" "Walks well chosen and great not to have to do any work to find your way" Just a few words from last years guests.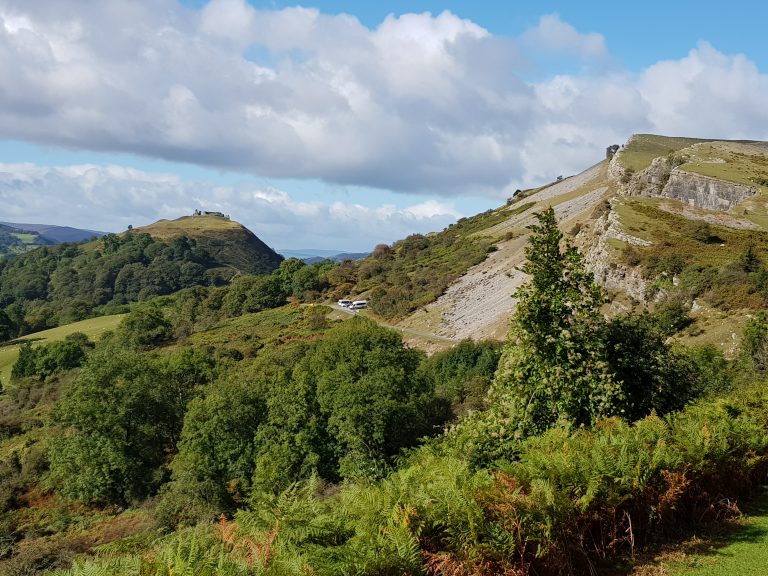 SUMMARY
Dates: Monday October  23rd – Friday October 27th
Guide:  Jo Bird
Walking Grade: 2 Goats steady pace up to 8 miles a day with rolling hills maximum 320m. We may be out for long days, weather permitting.
Base: Gales of Llangollen, a historic hotel situated in one of the oldest streets in the town.
Arrival: for 15.00 check in, settle in and a short orientation walk. There will be a briefing with your guide at 18.00 followed by a welcome dinner together.
Departure: Plan to travel after 14.00 as there is a morning walk
Price:£775 per person for the holiday to include:
Bed and Breakfast in ensuite double room for solo occupancy
Packed Lunches on walking days
Dinner at the hotel together on the first night
Local transport
Experienced Guide
If you can bring a friend/partner and share a room their is a discount of £100 pp and the price is £665 per person . We will discount your final bill once you have paid your deposit.
Not included:
Travel to Llangollen
Drinks from the bar
DETAILS
We are very pleased to offer this historic and dramatic trip to Llangollen in Denbighshire in Wales. A place that has it all – a ruined hilltop castle, the magnificent River Dee, a gentle canal, a dramatic limestone escarpment. We also have the story of Eleanor Butler and Sarah Ponsonby, known as the Ladies of Llangollen. We will discover this area of outstanding beauty walking where these women trod all those years ago.
Our location lies on Offa's Dyke footpath and has lovely walks all around in the rolling hills.
ITINERARY
Monday Arrival at Gales Hotel by 5 pm to settle in and have our Welcome briefing with our guide Jo at 6 pm. Each evening she will explain the walks for the following day.
Walks may vary depending on the weather.
WALK 1  –  approx 6 miles. Total ascent/descent 320m.
This is the walk that cannot be missed! We walk over the river and canal and climb steeply up to explore the atmospheric castle ruins of Castell Dinas Bran which overlooks Llangollen. We continue our walk onto the section of the Offa's Dyke trail known as the Panoramic Walk, which has great views over the Dee Valley and the surrounding hills and moors. We will then circle back to Llangollen on the canal. Time permitting, we will walk through Llangollen to visit the very pretty half-timbered house which was home to the famous Ladies of Llangollen, where there is also a very tempting garden café!
WALK 2 –  8 miles, Total ascent/descent 200m
This is a great day's walking. We head out of town on the Llangollen canal, walking a couple of miles to the horseshoe falls on the River Dee where the canal begins. We circle around Velvet Hill, passing by the remains of Crucis Abbey. With a possible cuppa break at the nearby Abbey Farm café.We head onto the Clwydian Way, which has really lovely views over the Eglwyseg valley and up to the dramatic limestone escarpment that runs north from Llangollen.   We will head back on another section of the Offa's Dyke path and back into Llangollen for refreshments and a well-earned rest.
WALK 3 – Approx 7.5 miles, Total 100m ascent.
No trip to Llangollen is complete without a visit to the amazing Pontcysyllte Aqueduct, which is a world heritage site. The aqueduct takes the canal high over the River Dee, and it is quite a spectacle to watch canal boats and even walk along the towpath if you have a head for heights. We will take a bus there from Llangollen and spend a little time exploring the site, and then do a lovely walk back to Llangollen, first along the canal and then taking footpaths across fields on the hillside, which has lovely views all the way.
Friday Departure – there will be a short morning walk before departure