DATES Tue 1st August 2023
- Wed 9th August 2023
9 days
We bring you another magical wild adventure in partnership with Luna Safari run by a dynamic British woman and her Tanzanian husband. Winner of the Tripadvisor Travellers Choice Award 2022. During your holiday you will witness some of the world's most majestic animals, visit a Maasai village and a children's project that this trip directly supports. If you have never been on Safari and want a trip of a lifetime this could be the trip for you. IF YOU WOULD LIKE TO DISCUSS THIS TRIP PLEASE CALL OR EMAIL AND SARA WILL ANSWER QUESTIONS HAVING JUST RETURNED FROM TANZANIA
SUMMARY
Dates: Tuesday August 1st to Wednesday Aug 9th
Guides: local guides from Luna Safari
Walking Grade: 1 Goat as we will be doing gentle walking as well as travelling by jeep to see the wildlife.
Base: In hotel accommodation and Safari camps – see itinerary. We offer single ensuite rooms everywhere except the 2 nights when on Safari when it is recommended that you share.
Price:  £3500 per person for the holiday in single ensuite rooms except for 2 nights at the Ang'ata camp where you will be in a sharing twin rooms (4222 USD on current exchange rate)

Included in the price:
All Airport Transfers
4 Nights Mount Meru Hotel, Arusha (single room)
2 Nights Ang'ata Luxury Camp – Serengeti (sharing twin room)
1 Night Farm of Dreams Lodge (single room)
1 Night African Safari Lake Manyara Camp (single room)
Meals included (Day 2 – BL, Day 3 – BLD, Day 4 – BLD, Day 5 – BLD, Day 6 – BLD, DAY 7 – BL, Day 8 – B, Day 9 – B)
All National Parks Fees
All National Park Camping Fees
Ngorongoro Transit fees to reach Serengeti
Ngorongoro Crater Service Charge for descent
All Game Drives
Arusha National Park Walking Safari with armed ranger
Walking Safari Lake Manyara National Park
Private, highly experienced, English speaking Safari guides
Private state of the art 4x4safari vehicles, with pop up roof for optimal wildlife viewing, charging ports and a fridge for those all-important refreshments
Time spent in a Maasai village learning about their way of life
Arusha Town Tour
Local School Visit
24 hour support from our wonderful in country team
Donation to our Luna Foundation, helping to support life changing children's projects across Tanzania.
Not included: Travel to Tanzania, any meals not stated above and drinks
If you need help with flights do contact Helen, our travel concierge service:helen.wheatley@travelcounsellors.com
Call – 01522 716180/07775 927746
DETAILS
A wonderful Safari across Tanzania, one of Africa's very special places – awarded year after year as Africa's greatest safari location and with good reason.
This 8-night/9-day package has been put together by Husband & Wife Team Michaela and Khalfani, owners of a beautiful little family-run safari company. Their amazing team will take care of you throughout. We love to support women/family-run businesses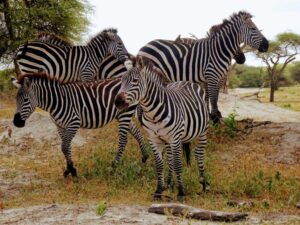 As well as an incredible wildlife experience through Big Five country, witnessing the world's most majestic animals closer than most can ever dream of, you will also experience an ancient and rich cultural journey.
You will visit a children's project that you are directly helping to support by travelling with us. Luna Safari works with five schools and sponsors a number of girls so that they have a chance at a good education. You will spend time in a Maasai village learning about their culture.  You will have a walking tour of Arusha Town, which includes a visit to the vibrant central market and the Maasai market. These experiences give you a true taste of Africa.
Tanzania is the home of the Luna Safari team, and it is obvious they live and breathe it. They have handpicked their personal favourite accommodations, which provide a beautiful sprinkle of luxury while also retaining their spectacular and rustic Out of Africa Charm.
This is a wildlife-filled, culturally-infused African dream safari.
ITINERARY
Itinerary –  subject to change if advised by our local partners 
Day 1 (1st August) – Welcome to Tanzania
Arrive in Tanzania. You will be welcomed at arrivals and transferred from Kilimanjaro Airport to Arusha Town.
Time to relax  around the infinity pool, which provides breath-taking views of Mount Meru – Kilimanjaro's little sister.
Overnight Mount Meru Hotel
Day 2 (2nd August)– Walking Safari – Arusha National Park
Early start in a state of the  art 4×4 jeep, travelling with  a highly experienced guide.
Travel to Arusha National Park for our exciting and unique morning walking safari, alongside the protection of our highly experienced and knowledgeable armed ranger.
The entrance Gate to Arusha National Park leads in to shadowy Montane Forest inhabited by inquisitive blue monkeys – the only place on the Northern Safari Circuit where you should be able to see the acrobatic Black and White Colobus Monkey. In the midst of the forest stands the spectacular Ngurdoto Crater. We can also find Elephant, Buffalo, Zebra, Giraffe and more.
Following our adventure on foot we climb back on board our jeep and find a spot for a picnic lunch with a view and then continue our game drive until sunset.
Overnight Mount Meru Hotel
Day 3 (3rd August) – Tarangire National Park
An epic journey through the Great Rift Valley until we reach Tarangire National Park, where plenty of Maasai wander along the way.
We will stop off on the way to meet with a Traditional Maasai Community where you can learn about their ancient traditions and wonderfully unique culture, as well as learn to dance Masaai style. The stunning mountains of the Great Rift Valley are our backdrop.
Famous for the river that runs through it, in Tarangire you can spot all manner of wildlife and 4 of Africa's Big 5. Tarangire is especially famous for its huge herds of wild African Elephant, with multiple herds of up to 300 Elephant per herd.
After arriving at your accommodation later in the evening, enjoy a beautifully prepared 3 course dinner.
Overnight Farm of Dreams Lodge
Day 4 (4th August) – Serengeti National Park
We head in to legendary territory – awarded year after year as Africa's greatest National Park, the sheer concentration of wildlife here in Serengeti is enough to blow your mind.
Full day within the National Park, experiencing unforgettable wildlife moments, breathing in the fresh air, the nature and the views. A safari day exactly how it should be. No interruptions, no worries or Hakuna Matata as they say in Tanzania. We will be guided by you and will do our best to make your wildlife dreams a reality.
The rolling plains of Serengeti were named so by the Maasai. The landscape is beautiful and so is the diversity of its wildlife. Enjoy a beautiful evening at camp and a delicious dinner inside the bush restaurant before bedding down beneath luxury canvas – the Lions roar your nightly lullaby.
Overnight Ang'ata Luxury Camp
Day 5 (5th August)– Serengeti National Park
Second full day within Africa's Greatest National Park. Game drives from dawn until dusk giving maximum opportunity for spectacular wildlife viewing in comfort and with the most knowledgeable local guides.
Enjoy drinks and share stories around the campfire as you witness some of Serengeti's nocturnal wildlife come to life.
Overnight Ang'ata Luxury Camp
Day 6 (6th August)– Ngorongoro Crater
Today we're going for ultimate adventure and continuing our Safari right down in to the Ngorongoro Crater itself – the world's largest Caldera and one of the last remaining homes of the illusive and highly endangered Black Rhino. The journey down into the crater is something pretty incredible and so are the sweeping views of the Eden of Africa.
Today we'll spend our day amongst the entirety of the Big 5 and enjoy lunch on the crater floor.
Following our time within the world's largest caldera, we will journey towards Lake Manyara National Park and spend the evening at one of our favourite camps which borders the lake.
Delicious local food before being guided  back to your tent by our Maasai guards in case of hippos which sometimes wander from the shores of the lake into camp and graze right outside your tent.
Overnight at African Safari Lake Manyara Camp
Day 7 (7th August)– Walking Safari Lake Manyara National Park
Lake Manyara National Park, famous for the beautiful Lake running through it, scattered with stunning pink flamingos and famous for its hugely impressive tree climbing Lions.
A magnificent National Park, once described by Ernest Hemmingway as 'the most beautiful I had ever seen in Africa'.
Hike down the Great Rift Valley through a dense ground water forest. View birds, monkeys, bush buck and other forest animals. Immerse yourselves in the sounds of the forest while the fresh streams and waterfalls surround you. We will enjoy our time walking amongst some of Africa's greatest wildlife species before leisurely making our way back to Arusha.
Overnight Mount Meru Hotel
Day 8 (8th August) – Local School Visit and Arusha Walking Tour
A percentage of the cost of every holiday goes directly in to supporting children and families from some of the poorest backgrounds across Tanzania.
This morning we will visit one of the local schools and meet some of the young girls that you are directly helping to support. The smiles on little faces here are hard to forget and it's such a special experience. the children and teachers will be overjoyed to see you and it's a great opportunity to learn more about life here in Tanzania and the impact you're directly making simply by choosing to travel with us.
Following  time at the school we head out on a guided walking tour of Arusha Town. A wonderful opportunity to get a taste of local life – the local food market, the Maasai Market and the centre point of Africa – directly half way between Cape Town and Cairo.
Overnight Mount Meru Hotel
Day 9 (9th August) – Departure Day .
Make your return flight home at your convenience and return transfers will be organised based on your departure time.